Filmmaker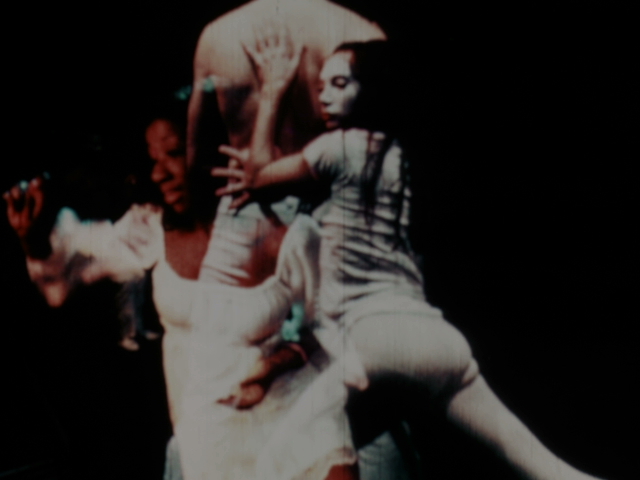 Toni's experimental films were screened to sold out audiences at three of the 2012 Pacific Standard Time events. Sponsored by the Getty Center Museum with the Andy Warhol Foundation, these events chronicled the work of Southern California artists. Alongside Toni's films were works by George Lucas, Frank Zappa, Wallace Berman and Bruce Conner.
Toni's Films will show in conjunction with the Pacific Standard Time Celebrates LA Artists, at:

the Armory Center for the Arts
145 North Raymond Avenue
Pasadena, CA 91103
December 3, 2011, 8:00pm

This show will repeat at Cinefamily on Saturday January 7, 2012. These are 16 and 8 mm films shot and edited by Toni Basil in the late 60's.
For More Information, Click Here
---
SEMINA CULTURE: WALLACE BERMAN & HIS CIRCLE
AT SANTA MONICA MUSEUM OF ART
September 17-November 26, 2005
Guest curators Michael Duncan and Kristine McKenna
Opening Reception Friday, September 16, 7-9pm
Santa Monica, CA, August 15, 2005—From September 17 to November 26, 2005 Santa Monica Museum of Art presents Semina Culture: Wallace Berman & His Circle, co-curated by Michael Duncan and Kristine McKenna.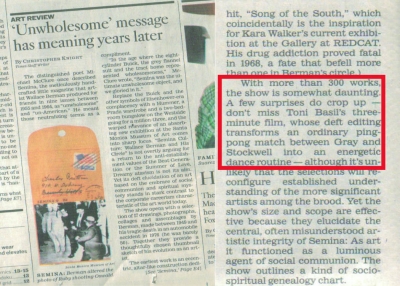 An important artist of the post World War II generation, Wallace Berman was a catalyst and inspirational mentor—"Mr. Really Cool," in the words of the late curatorial giant Walter Hopps—carrying the ideas and ideals of one group of people to another as he moved through a wide spectrum of creative, social, and political circles during the fifties and sixties in Southern California. This is the first major museum examination of the significance of the charismatic Berman—his eclectic worldview and non-nine-to-five lifestyle. It includes the complete loose-leaf run of Semina—a hand-printed, free form art and poetry journal that Berman published and personally distributed—and artworks by contributors to Semina, as well as by those who were part of the close-knit "Semina Culture" community—largely people from the West Coast. The exhibition and accompanying catalog offer breakthrough insights and rigorous scholarship about an emerging counterculture whose rich array of innovative artistic voices contrasted with the cultural conformity of Eisenhower-era America.
In addition to the complete Semina publication—an iconic document of Berman's idiosyncratic artistic point-of-view—the exhibition includes over fifty of Berman's own photographs, recently printed from vintage negatives and shown for the first time; a compelling selection of publications and documents integral to the world of "Semina Culture;" and never before seen works in a variety of mediums by forty-eight artists, friends, and collaborators in Wallace Berman's artistic projects: Robert Alexander, John Altoon, Toni Basil, Paul Beattie, Ray and Bonnie Bremser, Charles Brittin, Joan Brown, Cameron, Bruce Conner, Jean Conner, Jay DeFeo, Diane DiPrima, Kirby Doyle, Bobby Driscoll, Robert Duncan, Joe Dunn, Llyn Foulkes, Loree Foxx, Ralph Gibson, Allen Ginsberg; Billy Gray; George Herms; Jack Hirschman; Dennis Hopper; Billy Jahrmarkt; Jess; Lawrence Jordan; Patricia Jordan; Bob Kaufman. Philip Lamantia; William Margolis; Michael McClure; Taylor Mead; David Meltzer; Henry Miller; Stuart Perkoff; John Reed; Arthur Richer; Rachel Rosenthal; Jack Smith; Dean Stockwell; Ben Talbert; Russel Tamblyn; Aya (Tarlow); Edmund Teske; Zack Walsh; Lew Welch; and John Wieners. These artists of the "beat" generation created works infused with memory, lyricism, and a sense of the ephemeral. Art was a joyful and creative expression for these iconoclasts, not a means to an art world career. Their approach to the purpose and formal nature of art and culture existed on a vastly different track from the canonical traditions of abstract expressionism, minimalism, and postmodernism. The exhibition also features a continuously running group of short films by Berman, Paul Beattie, Russel Tamblyn, and Toni Basil, including footage of Berman and his artist friends.
The comprehensive catalog that documents the exhibition is published and distributed by SMMoA and DAP. Semina Culture will travel to the Nora Eccles Harrison Museum of Art, Utah State University, Logan, Utah (January 10–March 15, 2006); the Ulrich Museum of Art, Wichita State University, Wichita, Kansas (April 21–July 9, 2006); the University of California, Berkeley Art Museum & Pacific Film Archive, Berkeley, California (October 17–December 10, 2006); and The Grey Art Gallery, New York University, New York, New York (January 16–March 31, 2007).