Street Dance Historian
An excerpt from the upcoming book SHOCKIN' THE HOUSE The History of American Street Dance
A Street Dancers interpretation of the music when improvising.
by Steven Nicholas AKA Skeeter Rabbit, Electric Boogaloo 1961 to 2006.
Its a three principal idea about music for us. The first is being on beat. And it's just the simple cadence of dancing (his finger snapped).. Then we have riding the beat. Which is what Boogaloo Sam does best "|which you ride the sounds from the music..So not just the beat..you ride all the sounds the horn hits the base drumb "| the kick drumb ah..Gutar licks "| the base.. any sound that comes out.. minie mogue what ever "|.So that's called riding the beat "|.and then the third and the most difficult is freekin the beat "|.. Now Freeking the beat is what you do inbetween the sounds to land on the beat..so you don't have to be on beat.. you have to land on beat "|so you have "|. on beat "| ridin the beat and freekin the beat.
Shockin' the House is a book I've been writing on the History of American Street Dance. It will trace the evolution of this great American art form and will include pictures and interviews.. Toni Basil
---
Dance Steps from the Late 50's - 70's
Here is the list of dance steps I teach in my 60's DEEP FUNK AND LOCKING CLASS that everybody has been asking for. I explore steps from the late 50's through 1970 and the creation of the Campbellock.
Please note! The dates on the list are to the best of my knowledge based on the dances I danced and the research on the recorded year of the songs referenced…In that era there were songs for the dances. I think most of the time the songs were inspired by the popular dance steps but sometimes the dance steps were created from the songs.
-Toni
Dance steps late 1950's through the 60's to 1971
The shoes had leather soles ,the floors were wood and there were songs for the dances.
Late 50's through the 60's:
The camel walk 1957 Tina Turner style different from James Brown style
The Stroll 1957 slow rock (same dance step as James brown camel walk)
The Twist 1959 Hank Ballard and the midnight's / 1960 chubby Checker
Mashed potatoes 1959 (James Brown Recorded it in 1959 and released it in 1960 under Nat Kendrick's and the Swans. The dance was the basic steps of what is now called the James Brown)
The pony 1961 it's pony time Chubby Checker
Mashed Potatoes Time 1962 Dee Dee Sharp
The Watusi 1962 the Orlons
The monkey 1963 Major Lance
Mashed potatoes Dee Dee Sharp 64
Shotgun 1964 Junior Walker and the All-Stars
The Temptation walk 1964
The jerk 1965 The Larks
The Shotgun 1965 Junior Walker and the All-Stars
The Boogaloo 1967
The skate 1967
The four corners (late 60's)
Rufus Thomas songs for dances from the 60's to the 70's:
Walking the dog 1963
The bump 1969 (do the double bump)
The funky chicken (1969 ) 1970
The Push and pull (1969) 1970
The funky penguin 1971 Do the
The breakdown 1971 Do the
The 70's: (the list is enormous, here is just three more)
The Campbellock 1970 Don Campbell
The Robot 1971
The city bitch 1971
Loose booty 1971
Some other Songs with the names of dances in them:
Land of 1000 dances
Shotgun
Can your monkey do the dog
Monkey robot
---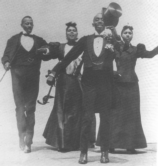 Cakewalk Dancers - 1980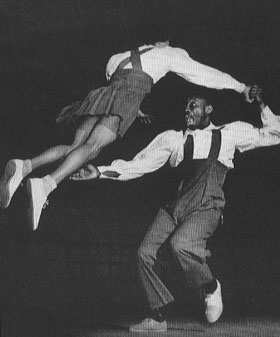 Frank Manning Flying Lindy - 1941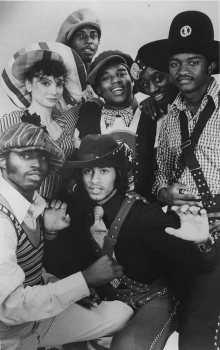 The Lockers - 1973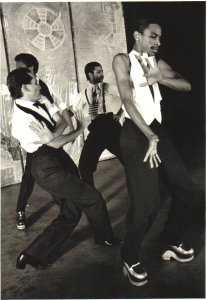 The Creators of Whacking & Punking
in front: Andrue Freank. Left: Billy Star. Behind: Arthur Guff. Rear Right: Joe. Performing at Basil's Roxy show 1976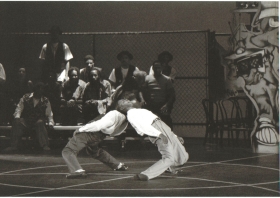 Skeeter Rabbit & Popin' Pete from the Electric Boogaloos at Basil's 1993 show "Shockin The House" for the LA Festival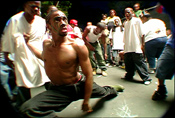 Lil C King of Krump - 2004